Our scientifically validated diagnostic surveys give you rapid insights into how you can take your team to the next level. Choose the tool that suits your team:
The Team Diagnostic Survey measures your team against the 6 Conditions for Team Effectiveness

Take a Pulse Check after the Team Diagnostic Survey to measure how your team improves

Use the Team Diagnostic Survey for Startups to accelerate your entrepreneurial journey

Help your team leaders take it to the next level with the Team Leader Diagnostic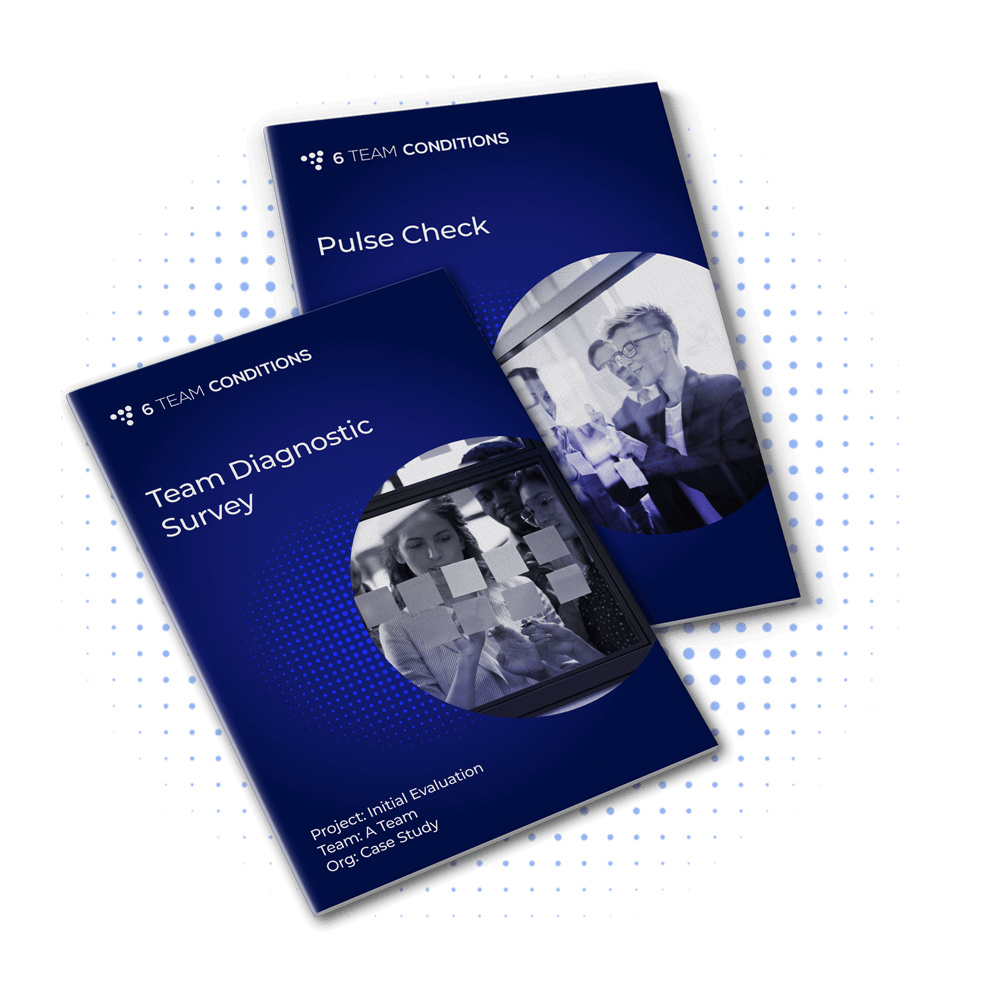 0
Trusted by Fortune 500 Companies
0
Available in 10+ languages
0
Applied to more than 3000 teams globally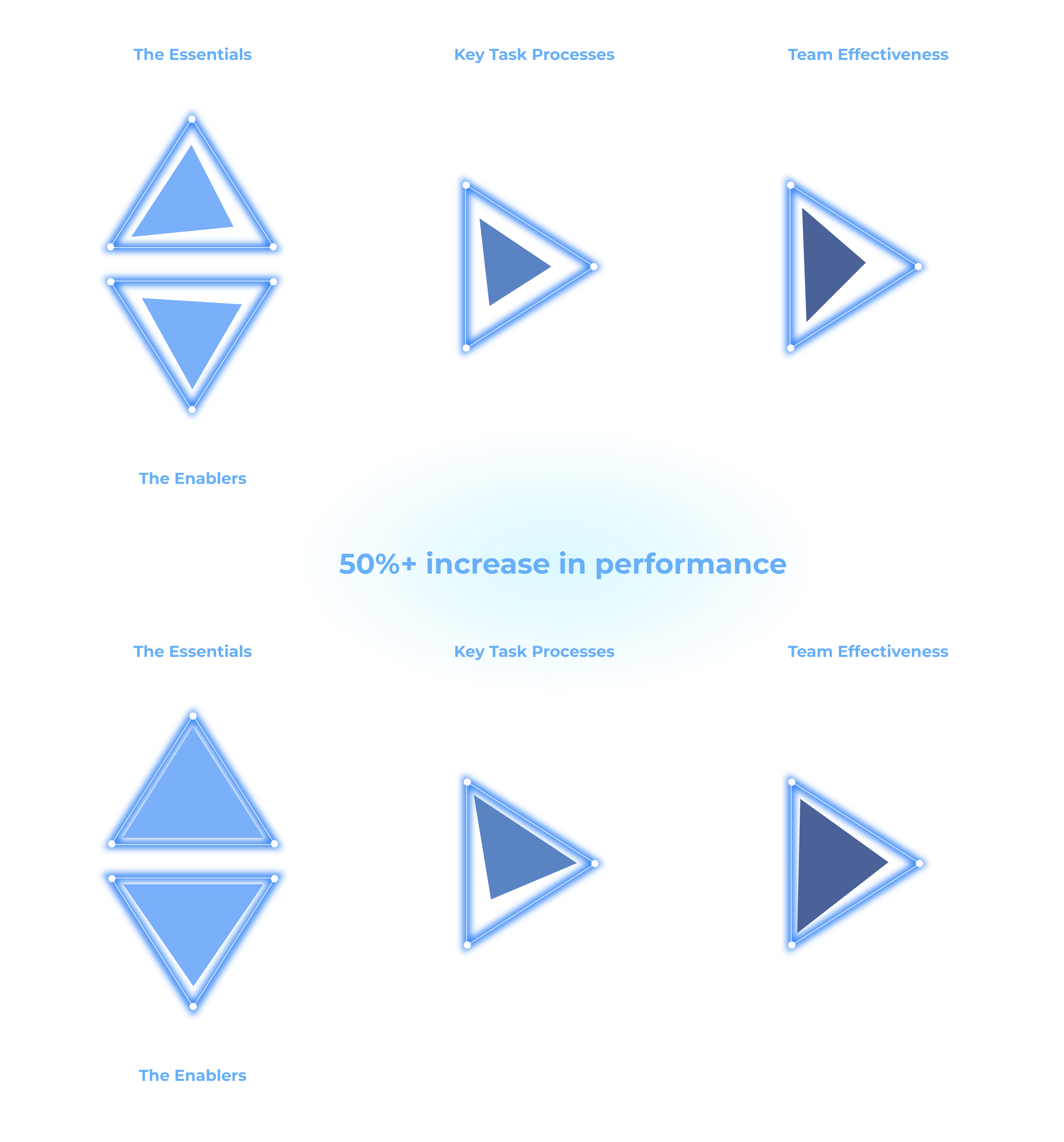 Team Diagnostic Survey improvement scores in an IT leadership team over 9 months
Time 1:
Baseline TDS scores for an IT leadership team. Team Coaching with the Team Diagnostic Survey was deployed to support the new Chief Information Officer and to help the leadership team move from a group of individual leaders to a truly collective decision-making team.
Time 2:
Follow-up TDS scores using the TDS Pulse Check after 9 months of team coaching with the leadership team. Team performance improved by 50%. Highly significant improvement was reported in almost all dimensions of the 6 Conditions team effectiveness model. The CIO has since been promoted to the Chief Operating Officer role of the organization.
Research-backed
The TDS is based on the 6 Team Conditions Framework, the best-validated model for predicting team performance based on decades of research.
Tangible insights
You'll receive a comprehensive report on your team's current strengths and identify areas for improvement so you can accelerate their performance.
Real-world results
The TDS has been used to successfully improve
over 3,000 teams across the globe.
Pulse Check
Want to know whether your team's performance is improving over time? The TDS Pulse Check takes just two minutes to complete, providing you with a rapid snapshot of your team's progress on the 6 Conditions for Team Effectiveness.
TDS Pulse Surveys for repeated measures start at $125 USD per team.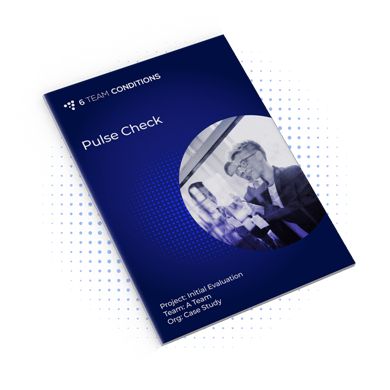 Sustained success
Once you have relaunched your team following the TDS, Pulse Checks enable you to monitor and sustain their high performance.
Rapid results
Pulse Checks take just two minutes for each team member to complete, so you can quickly review your team's current standing.
Identify changes
Our Pulse Check survey generates a basic TDS report, so you can see any positive or negative changes in your team's performance going forward.
Client stories
The 6 Team Conditions framework and Team Diagnostic Survey serve as the foundation for my team coaching practice. I strongly recommend it for any coach that is serious about bringing to their practice practical tools that get teams moving on a positive trajectory quickly.
Gabe Abella
Organizational Coach, JP Morgan Chase
6 Conditions and the TDS are important content on The Smurfit UCD Team Coaching Diploma. We aim to provide experience and insight into working with a range of models and approaches. The origins of the TDS as a robust academic framework makes it an important element of our programme, for our team coaching practitioners.
Barry O'Sullivan
Co Director of Team Coaching Diploma, Smurfit, University College Dublin