Our team coaching program is customized to suit the unique needs of your team. You'll receive:
An in-depth assessment of your team's effectiveness through the Team Diagnostic Survey (TDS)

Support to relaunch your team based on the results of the TDS

Our team effectiveness experts coach the team leader and the team as a whole to accelerate collaboration and performance

Regular Pulse Checks to ensure your team can sustain high performance for the long term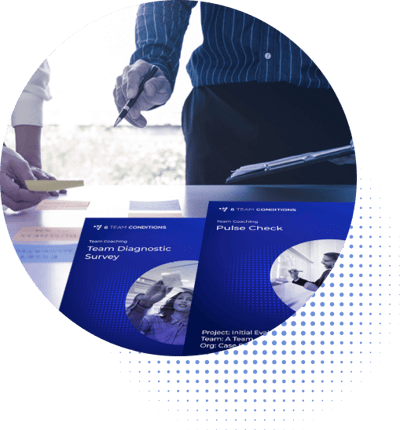 How it works
We take a systematic, science-based, step-by-step approach.

Step 1:
We will assess your team's specific strengths and needs through the Team Diagnostic Survey.
Step 2:
We relaunch your team with a compelling team purpose, targeted priorities, and a shared approach to working.
Step 3:
Our team effectiveness experts coach your team throughout the performance cycle in order to stay on track and to accelerate.
Step 4:
We'll provide you with a clear plan and regular TDS Pulse Checks to sustain your team's performance.
Increase and sustain team effectiveness
Before we coach your team, we carry out the Team Diagnostic Survey to discover how they stand on the 6 Conditions for Team Effectiveness. We'll use this insight to coach your team to greatness, and carry out regular Pulse Checks to ensure they maintain high performance.


Relaunch your team for excellent results
We'll coach your team to put the 6 Team Conditions in place and effectively 'relaunch' in order to deliver superbly for your stakeholders and get better, faster, and smarter over time. It's an approach we've tried and tested in organizations of all shapes and sizes.



Bringing the 6 Team Conditions to life
Our coaching is centered in the 6 Conditions for Team Effectiveness Framework, the best-evidenced team model for generating superb team performance. We'll also help your team develop their self-coaching capacities so they can make continuous improvements.
Increase motivation
Our research shows motivation and commitment increases when everyone understands why the team exists, what they need to do, and how they should work together.
Identify their impact
We'll work with your team to help them identify the clear impact their work has on the organization and the wider community.
Exceed expectations
When your team works better together, it's easier for them to meet and exceed stakeholder expectations.
Establish clear processes

We'll help your team develop charters that can be adapted to future changes, so they understand the processes they should follow to maximize their effectiveness.
Create psychological safety
Our research shows that when teams have the clarity and direction coaching provides, they understand the need for engaging in team practices that promote trust and feel psychologically safe.
Adapt to a changing world
If your company is rewriting the rule book for a new way of working, the 6 Team Conditions approach provides an anchor for teams to collaborate, perform, and evolve.
Client stories
The 6 Team Conditions framework serves as the foundation for my team coaching practice. I strongly recommend it for any coach that is serious about bringing to their practice decades of rigorous research combined with practical tools for making the highest leverage interventions that get teams moving on a positive trajectory quickly.
Gabe Abella
Organizational Coach, JP Morgan Chase
Melissa has provided invaluable team coaching support. Our team has welcomed Melissa's ability to create a safe and supportive environment that enables constructive challenge within the team . This has enabled the team to develop strong leadership skills and excellent teamwork, putting in place the 6 Team Conditions.
Lynne Walker
Director of Primark Cares , Primark

How we can help you
Are you ready for the new era of teamwork? Our products and services will transform how your teams address the challenges of the modern world and deliver brilliant performance.