The challenges facing teams today
Changes in the way we work can have significant consequences for teams in businesses of all shapes and sizes. Consequences such as…
Geographical dispersion, which can make it more difficult for teams to work together

Employee isolation, as they lose connection with their colleagues due to hybrid or remote working

Poor team coordination, which can occur if teams aren't coached and empowered to collaborate virtually

Lack of motivation, which is common when a team isn't working well together

Increased turnover and "quiet quitting" if these issues aren't addressed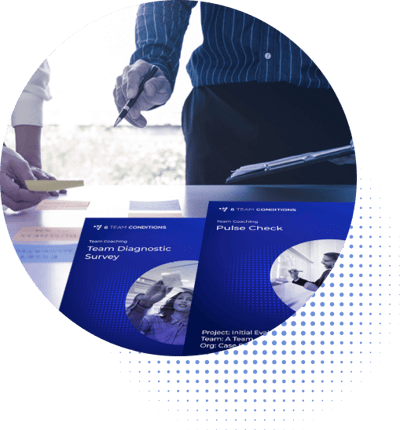 Reimagine your teams
The consequences listed above aren't unavoidable. At 6 Team Conditions, we've coached teams across the globe, so we know that diverse, dispersed teams can be incredibly effective.
We also know that the 6 Team Conditions remain highly relevant to today's teams. So we use our tried-and-tested framework to enable your leaders to design, launch and support high-performing teams regardless of where they are based or how often they come into the office.
Become more agile
In today's volatile, uncertain, complex, and ambiguous (VUCA) world, your teams need to be able to respond to any opportunities or challenges the future may bring.
Our approach to reimagining teams focuses on creating an enabling eco-system that empowers teams to be agile. This means they can continue to work together effectively no matter what changes come their way.
Future-proof your organization
Your organizational success depends on strong performance and employee wellbeing. The Great Resignation, quiet quitting, and organizational silence all affect the bottom line, future competitiveness, and company culture.
Our methodology unlocks the full potential of every team member and enables them to clearly see what they can create and achieve together with their team. You'll see a measurable impact on employee engagement and the overall success of your organization as a result.
How we can help you
Are you ready for the new era of teamwork? Our products and services will transform how your teams address the challenges of the modern world and deliver brilliant performance.